James I. O'Hearn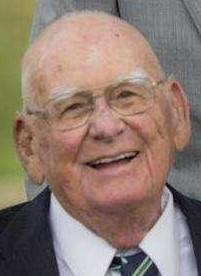 James I. O'Hearn, 97, formerly of Pelham, NH, West Newbury and Nashua, passed away peacefully in Troy, Michigan on Tuesday November 12, 2019 with family by his side.
He was the loving husband for 46 years of the late Grace (Blinn) O'Hearn who died June 16, 1997 and later his second wife, the late Ruth E. O'Hearn.
Born in Worchester, Massachusetts on October 8, 1922, a son of the late John Henry and the late Edith Mary (Farley) O'Hearn, Jim attended North Quincy schools and was a graduate of Quincy High School where he played football.
He went on to attend Boston College as a premed student until his junior year, 1942, and then left for service in the U.S. Army during World War II. In the spring of 1944 Jim was sent to European Theater of Operations where O'Hearn earned 4 Battle Stars and a Bronze Star for heroic achievement.
Once O'Hearn returned from the service he shortly thereafter went to work for the Quincy Patriot Ledger as a Circulation District Manager where he stayed for about 10 years. He then moved to the Haverhill Gazette where he was Circulation Manager and Assistant Business Manager. At the end of his service there, he moved to the Lowell Sun – a larger daily of about 45,000 copies daily and Sundays. He served there as Circulation Director until 1971 when he was promoted to be General Manager, Treasurer and Director of the company.
During his career he was active in newspaper organizations; former President of New England Association Circulation Executives, former President of the Massachusetts Newspapers Publishers Association. He also served on the Board of Governors of the New England Daily Newspaper Association and served regularly on panels for the American Newspaper Publishers Association which involved the subject of labor laws and labor negotiations.
He was also active in local affairs serving as a Director of the Lowell Plan, as a Director of both the Lowell Boys Club, the Advisory Committee of Saint Joseph's Hospital and to the Lowell YMCA. It was here that with the help of the Pelham Town Moderator and Chairmen of the Planning Board, the Town of Pelham acquired the YMCA day camp at Long Pond in Pelham, which became the Pelham Veterans Memorial Park and became the site of much of the town's recreational activities.
O'Hearn was active with sports while at the Lowell Sun and was a member of the Vesper Country Club and played golf and tennis. An avid bicyclist, he commuted from northern Pelham to downtown Lowell for many years. He also raced in several 50 K road races and with the Sun's promotional department inaugurated the Tour de Lowell, a 50 K bike race starting in Lowell and going through New Hampshire towns.
In Pelham, NH he served on a search committee seeking another town to join Pelham to build a high school. They were unsuccessful, but with his wife Grace who was Chairmen of the School Board Committee and with O'Hearn serving on the Advisory Committee, the first high school was built in Pelham, New Hampshire. A plaque shows the O'Hearn family activity in this area.
After his retirement from the Lowell Sun in 1989, he moved to Citrus Hill, Florida and joined the Citrus Hill Country Club.
During retirement, Jim enjoyed golf and tennis, traveling to China, Africa, Europe, Thailand, England, France, and many warm exotic islands. Most recently he moved to Troy, Michigan to be near his daughter Cathy and her husband Steve.
Jim is survived by five children; Catherine G. Hurley and husband Stephen of Troy, Michigan, son Kevin J. O'Hearn and wife Paulette of Meredith, NH, daughter Mary E. Mckernan and husband John of Madbury, NH, daughter Patricia A. Soonthornprapuet and husband Prachuab of Pelham, NH, and son Mark T. O'Hearn and wife Sharon of Cavendish, VT; twelve grandchildren and eleven great grandchildren who provided great joy and comfort to him in his elderly years.
He was also predeceased by his 3 siblings John H. O'Hearn, Margery A. O'Hearn and Eileen M. O'Hearn.
Friends may call for a Memorial Visitation at the PELHAM FUNERAL HOME 11 NASHUA RD. in PELHAM from 4 to 7 P.M. Thursday November 21, 2019. Relatives and friends are invited to attend his Memorial Funeral Mass to be celebrated Friday morning at ST. PATRICK CHURCH in PELHAM AT 10 O'CLOCK followed by his burial at the Gibson Cemetery. E-condolences/directions at www.pelhamfuneralhome.com.
Those wishing may make contributions in his memory to the Lowell Sun Charities, 491 Dutton St., Lowell, MA 01854. Arrangements by Funeral Director James F. O'Donnell, Jr. (603) 635-3333.